If you are anything like us, then your love for all things Harry Potter runs deep. But, sporting a Gryffindor sweater or a Hufflepuff backpack 24/7 is not your thing. Instead, you prefer low-key extras that can still spark an HP-centric convo without drawing all eyes on you. So, if you want to de-muggle your life the subtle way, these 8 discreet yet wow-worthy accessories will make you feel like a Hogwarts alumnus (or alumna) – no sorcery required.
Whether it's time to re-watch the entire series or enjoy a cup of warm butterbeer, these two whimsical watches will help you stay on top of your schedule.
Buy them here>>>
They also come with a sleek, minimalistic black band that matches the needs of both men and women. PS: Even though they look fancy, they won't burn a hole through your wallet since they are a buy-one-get-two kind of deal.
Buy it here>>>
For those days when you're feeling a bit edgy, startle your Potterhead friends with this Deathly Hallow necklace. Shaped after the now-famous HP sign and looking chic AF, this pendant is definitely worth a place in your accessory collection. You-Know-Who would be proud.
Sometimes it's the smallest pieces that pack the biggest punch, and that's exactly the case for this Hogwarts-inspired jewelry set.
 Consisting of a necklace and a matching set of stud earrings, this fashion-forward item pays homage to the wizarding academy while ushering your outfit into the #OOTD territory.
Since owning your very own snowy white, mail-delivering owl is not possible (at least, not at the moment), we have another cute way for you to show your love for Harry's adorable pet.  Commemorate Hedwig's honor in a subtle yet stylish way.
Buy it here>>>
This embroidered dad hat comes with a inconspicuous and cartoonish image of Harry's beloved, Hedwig, and its name printed on the back. Sun blocking never felt cooler!
Looking for an easy way to carry your galleons and sickles around that even Harry would approve of? Then, this leather bi-fold wallet is a no-brainer.
Buy it here>>>
Featuring an embossed Hogwarts crest, this accessory can help you store anything from cards and IDs to your muggle money.
Nailing the perfect updo is not always easy. But, adding a little "magic" to the mix can work wonders on your hairstyling skills.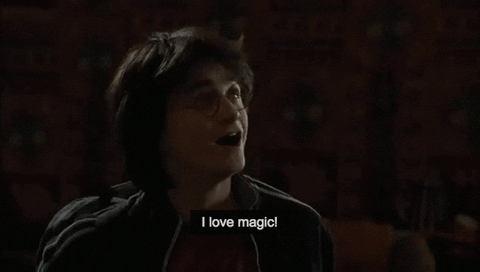 These wand-shaped hair sticks look just like Hermione's and Harry's trusted wands and are guaranteed to smooth things out for you – even during the worst hair days.
Buy it here>>>
Buy it here>>>
Do you want to glam up your bare wrist HP-style? Then, you need this gorgeous bracelet in your life. Designed to look exactly like our favorite wizard's wand, this subtle accessory will make your fellow Potterheads seriously jealous of your elegance and sense of fashion. 
If you are looking for an easy way to bring some instant HP swagger to your everyday outfits, we've got you covered.
Buy it here>>>
This unisex T-shirt features Hermione's sassiest quote, showing that you not only love the series but are also a fan of witty clapbacks.
Ready to add some Harry Potter flair to your outfits? Let us know which items you want to snag right now in the comment section down below!