Confident, brainy and an all around bada$$; Hermione Granger was and still is the girl we all secretly want to be. So, it's not surprising to see an entire generation of gals out there craving to be just like her, in any and every way (sassy clap-backs included). If your friend is one of these girls, then it's about time you showered her with the magical attire and tools she deserves. That said, these 10 Hermione-approved gifts will definitely enchant her and help her look more like the adorable Muggle-born witch she's always looked up to.
Made from vine wood and a dragon heartstring core, Hermione's wand is just like her; beautiful on the outside but feisty on the inside.
While this replica is not made from such magical materials, it can still make your friend feel like a powerful witch every time she pulls it out of her Gryffindor robe. PS: This wand looks exactly like the one Hermione used in the movies "Harry Potter and the Deathly Hallows," part I and II, so she can thank you later.
Buy it here>>>
Buy it here>>>
By now we all know that if it weren't for Hermione, house elves would still get a very raw deal. The S.P.E.W. (Society for the Promotion of Elfish Welfare) founder is known for her activist spunk, and this vintage-looking, heather tee could be your friend's way of supporting her noble goal.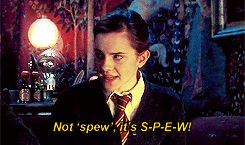 Plus, it's also time we showed some love to the bravest house elf we've had the chance to know throughout the Harry Potter series; Dobby.
Not many Hogwarts students can say that they traveled back in time, but Hermione Granger is in a league of her own. With a little help from the time-turner necklace, the studious witch had the chance to turn back time and catch up with her workload in an attempt to ace her academic game.
While this look-alike pendant may not have the same effect on your friend's work schedule, it can still add some magic into her day-to-day life thanks to the die-cut stars on the watch's face and the cute, little hourglass that measures time everytime you flip it.
Judging from Hermione's attitude and wits, there are about a million ways for a Gryffindor student to show his/her allegiance to the scarlet-gold house.
Buy it here>>>
However, sipping tea or coffee out of this Gryffindor crest mug seems like the most straightforward option. Not to mention that it will add a general Hogwarts vibe to your kitchen.

Love it or hate it, Hermione is the queen of sass, and her now-famous retort to Ron proves just that. So, if your Potterhead friend is all about clapping back and could use the inspo for his/her comebacks then this tee is a no-brainer. 
Buy it here>>>
PS: It comes in two different colors and multiple sizes, so no Muggle will be left behind
Remember Hermione's sneaky yet smart-as-a-whip cat, Crookshanks? This pet's attitude toward Scabbers, Ron's lazy rat, almost cost them their friendship at some point.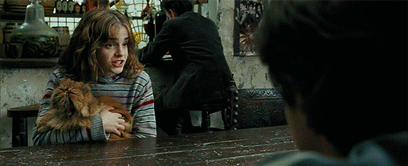 Buy it here>>>
But, that's no reason to hate on the ginger cat. On the contrary, we're here to celebrate Crookshanks's quick wits by sporting his face on a cozy crewneck sweatshirt that's all about living your life in a unique, cat-loving style, just like Hermione would.
Buy it here>>>
While Hermione is usually complimented on her wisdom and in-depth knowledge of the magic arts, she's also a beautiful teenage girl who can steal any guy's heart with a simple smile. Who could forget her grand entrance to the Yule Ball in that timeless pink gown?
If you or your friend want to relive that moment, this Pop! Vinyl figure is a must-have. From her perfectly sculptured curls to her shiny flower earrings, this tiny version of our favorite witch all dressed up reminds us why she's everyone's sweetheart.
Buy it here>>>
If there's one adjective to describe Hermione's attitude toward Harry and Ron, that'd be loyal. From keeping them out of trouble with her advice to running to their rescue when they are in need, she's always there to take one for the team.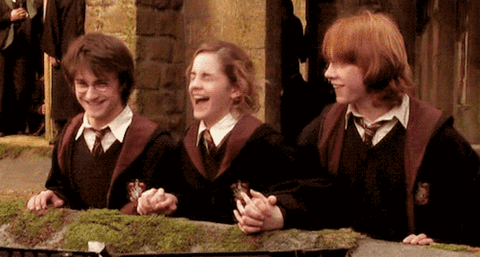 If her selfless stance is giving you squad chills, this heather T-shirt is just what Hermione recommended. Fun fact: She even stands between the guys, proving once again that she's the glue that holds this magic squad together.
Being the overachieving Gryffindor student that she is, Hermione always keeps a notebook around to never miss out on any new potions or spells.
Buy it here>>>
If you or your friend love geeking out as well, this embellished notebook will do just the trick while giving you some serious Hogwarts vibes. Plus, the golden trim will add a sense of elegance to your look, making you feel more like the top-of-her-class witch.
Buy it here>>>
From supporting her interests and goals to balancing out her workaholic tendencies, Ron's often goofy attitude is actually a perfect match for Hermione's powerful, serious approach to... well, everything.
That said, his tiny red-headed figurine rightfully deserves a place right next to her Yule ball dolly (check above). From our point of view, that's a match made in heaven – no matter what J.K. Rowling has to say.
So, will you stock up on all things Hermione Granger? Which ones are your absolute faves? Let us know in the comment section down below!